Alexander Rokoff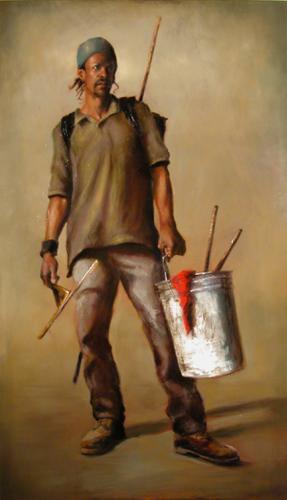 Virgil, Oil on board, 84 x 48 inches
© 2018 Alexander Rokoff
Viewer -- change the resolution or background color.



ALEXANDER ROKOFF


Alexander Rokoff is at the forefront of contemporary figurative oil painting. Working with life-size canvasses in the tradition of the Old-World masters, such as Veláquez and Caravaggio, Rokoff executes paintings that capture the spirit of his subjects and document a powerful social narrative that is both contemporary and timeless.

Originally from New Mexico, Rokoff received early acclaim for his mural work in and around Santa Fe, Taos, San Miguel de Allende, Mexico, San Cristóbal de las Casas, Mexico, and Bahía de Caracas, Ecuador. The mastery of his craft, however, arose from a series of master-apprenticeship programs lasting nearly twenty years and consisting of intense training in metalsmithing, woodworking, drawing, painting, the graphic arts, and sculpture. The skills he acquired through these studies are evidenced in his command of color, perspective, texture, shape, tone and form. When combined with a lifetime of travel and an acute sensibility for the human condition, the results are passionate, compelling, and fully-realized works of art.

Studios of Alexander Rokoff
View database entry