Craig Crystal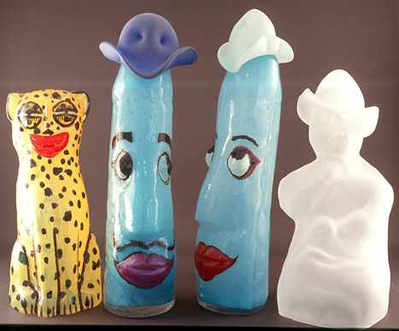 Chelsea Cat, Cowpoke Glass and lifesize Baby Buddha Cowboy.
© 2018 Craig Crystal
Viewer -- change the resolution or background color.



Craig Crystal was born 1953 in Austin, Texas. A self-taught glass artist, Craig began learning glass by making mosaics from broken beer bottles as a kid. After dealing in antiques in New Orleans he become interested in hot glass while selling antique glass art. After designing and making his own glass melting equipment he began making blown glass in the 1980s.

Art Glass

Contemporary blown art glass sculptures.

Craig Crystal's premier "Cowpoke Glass" is his latest new release of sculptured glass.

Blown, molded, sand blasted and enamel fused glass with a primitive comical theme on cowboys. Cowboy sculpted characters with mischievous to comical expressions. Ranging in size from 4 by 12 inches to 6 by 23 inches. Blown colors of reds, blues and white run the rainbow with different colors of fused glass enamels on top of them.

Not the normal floral designed vase, tempting flowers but stand-alone works of fine art with a cowboy statement. Cowpoke Glass has a unique presence in a large open space yet at the same time speaks volumes in a crowded crammed room.

CraigCrystal.com is the primary location to view and purchase works by Craig Crystal.

Studios of Craig Crystal
View database entry