David Hayes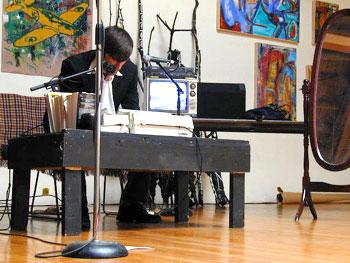 July 28th 2002 at The Sushi Gallery-Theatre. (San Diego, CA)
© 2018 David Hayes
Viewer -- change the resolution or background color.



Allow me to introduce a little project called The Mean-Nothings. It started as a home-recording experiment and throughout the course of a few years, has developed into a full-fledged performance art project. Since the first performance in San Diego (June 28th 2002), The Mean-Nothings have taken a cross-disciplinary approach to art and have steadily increased their audience, which includes music fans, theatre- and art exhibit-goers, as well as spoken word aficionados.

Through a combination of music, theatre, and spoken word, The Mean-Nothings spawned a series of performances known as The Urbanite Monologue. Written as a cri ecrit, this one-act performance piece is best described as an existential tale of a writer living amidst the noise and chaos of a developing metropolis. In this piece the music is used as a transition, which moves the story to the next scene. It has been described as alternative, folk-rock, or beat-folk but let your eyes and ears decide for themselves…

Currently The Mean-Nothings are working on a spoken word album due out in late April and are also active in the San Diego theatre scene.

See "The Only Thing Worse You Could Have Told Me…" at the Adams Avenue Studio of the Arts and the Poor Players production of Shakespeare's "Taming of the Shrew".

For information on future performances visit our website.
Studios of David Hayes
View database entry