Delfina Gimenez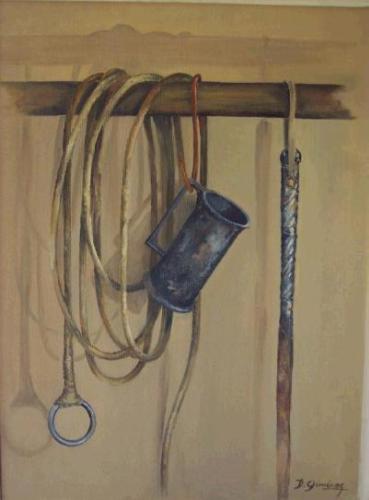 "Lazo, Cantina y Latigo"
© 2018 Delfina Gimenez
Viewer -- change the resolution or background color.



Born in Buenos Aires, Argentina, where she studied Fine Arts. At present she lives in the city of Lincoln, norwest of the Province of Buenos Aires. She has actively exhibited her works since 1990 made several individual and collective exhibitions in various galleries, in the National Congress Hall, Recoleta Cultural Center, and Palais de Glace of Argentina among others.

Delfina instills a very special sensitivity towards her oils. Her still life paintings look very much alive and totally real. Still Life in Spanish is translated as "naturaleza muerta" or "dead nature". The "naturaleza muerta" paintings of Delfina definitely "come alive" at her brush strokes. Her still lives are one of a kind.

Delfina also loves everything that reflects the work of the land in the rural areas of Argentina. All those things associated with "el campo" (Spanish for "the Land"), "el gaucho" (Spanish for "cowboy").
Delfina Gimenez's 6 Digital Consciousness galleries
View database entry