Dianne Panarelli Miller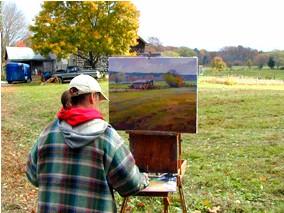 Dianne Panarelli Miller, Plein Air Artist
© 2018 Dianne Panarelli Miller
Viewer -- change the resolution or background color.



Dianne Panarelli Miller received a diploma from Vesper George College of Art in Boston. There she met and later studied intensively with Robert Cormier until she began the five year scholarship program at the R. H. Ives Gammell Atelier located on Newbury Street in Boston, learning the
classical traditional way to paint.
Dianne uses her technical backround with the "Boston School" and years of experience in painting "Plein Air' to produce works with an honest observation of her subjects. She enjoys doing land and seascapes, still-lifes and portraits in oils, pastels and watercolors all exclusively from nature.
Dianne is a member of the Plein Air Masters in Greenwich, CT, the Pastel Society of America in New York, the Rockport Art Association in Rockport,Massachusetts and the Copley Society in Boston to name a few. Her work can be found in galleries across the country. She has won many major awards including "Best of Show" at the North River Art Association
in Marshfield, Ma and First Prize in the Patron and Association Show at the North Shore art Association in Gloucester, Ma.
Dianne is currently teaching landscape and portrait classes in local art associations while maintaining a studio in her Abington home and painting local scenes.

Studios of Dianne Panarelli Miller
View database entry