George Burris Johnson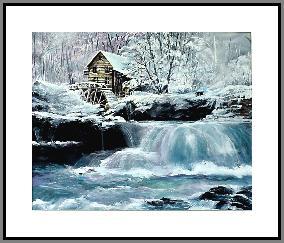 Babcock Mill, West Virginia
© 2018 George Burris Johnson
Viewer -- change the resolution or background color.



....I finished high school in New Jersey at the age of 18 Then attended Fleishers Art School
( Philadelphia College of Art ) majoring in fine arts. There were also courses in advertising at West Port Connecticut, and rounding out my education, I enrolled into Camden County Vocational Center for printing and design.
After high school I freelanced, selling my art in neighboring communities in New jersey and Pennsylvania. Joined a couple of galleries and sold my paintings and also worked for printing companies, real estate, banks as part of my freelance design work.
Pursing my love of art and design I sought employment that would see my talents in these area. I worked with Gimbels department stores, as a full time employee managing one of their stores in the display and design department. Following was a posistion with Macy's (Bambergers) in the display and design department in Cherry Hill, New Jersey. Six years later the opporunity to relocate to another state came along, with more responsibility in another retail organization in store planning and design. The new job was in the Washington DC area for EJ Korvettes. This posistion lasted for 7 years. As director I was in charge of designing the Cherry Blossom Ball, one of the major White House events that takes place durning the Cherry Blossom Festival in Washington DC.
The Outlet Company of New England was my next employer, My duties were to oversee eighty-one stores, which included directing all employees of the southern division in promotions, displays and design. All aspects of opening a new store from consruction to opening the doors for the grand opening were part of my duties.
After many years of traveling with the Outlet Company, I decited to open my own company in designs and promotions, including signs and display as a consultant.
Art: Landscapes ,seascapes I painted hem as real as I could.
Studios of George Burris Johnson
View database entry