George (G.W.) Thompson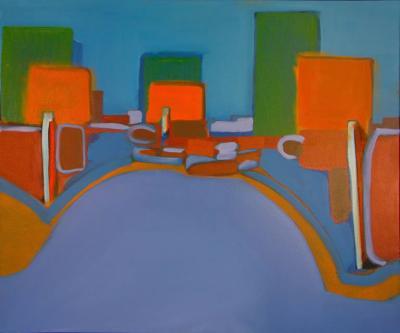 Lake, 36"x30", Oil, 2005
© 2018 George (G.W.) Thompson
Viewer -- change the resolution or background color.



G.W. works from home, in his basement studio in Vail, Colorado. Living in the Colorado Rockies, the mountains and the West have a dominant influence on his work. Colors and forms from western landscapes are obvious in his images. However, these images are all imaginary and created without any specific model. GW works spontaneously allowing images to surface as they are being painted. Space, movement, form and color are all very important to his work. GW likes images that challenge the viewer to look closer, to figure out the space and content of an image. GW says, "The world is like that sometimes, you really have to look to figure out what it is you are seeing. Especially with the juxtaposition of the manmade world on the natural world. The oddities of my images are no more outrageous than the oddities found in our own environments; natural or manmade."

Abstract Surrealism is the classification given to GW's work. Unlike strict Surrealism which is meant to reveal the subconscious mind through depicting images of the subconscious, Abstract Surrealism confronts the actual image creation process from a subconscious point of view or a
naive perspective, without the confines of the real learned world of our conscious minds. Likewise the viewing process should be approached with the naiveté of the subconscious. Pretend you are a newborn viewing these landscapes without a developed conscious awareness.

GW also lives and works by an underlying ecophilosophy of environmental stewardship. In GW's word, "As man imposes himself more and more on nature it is imperative that he learn to coexist with nature. To that end I have begun a series of collage/assemblage pieces created from the refuse left behind by humans visiting the wilds of Colorado. My intention is to educate the public and hopefully instill a greater sense of responsibility for protecting the environment."
Studios of George (G.W.) Thompson
View database entry