Igor Bushuev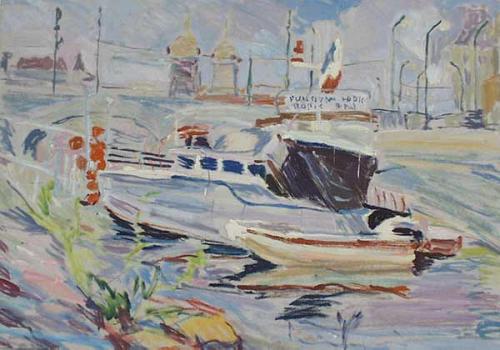 Boats for rent, 1999, Oil on Cardboard, 50x70 cm, 20"x28" inc., $600
© 2018 Igor Bushuev
Viewer -- change the resolution or background color.



The contemporary Russian painter, Igor Bushuev was born in 1964 in Marij-El Republic, Russia. He finished the Art school in 1979 and in the College of Arts in 1988 in Joskar-Ola, Russia. From 1981 to 1996 Igor had been working as a theatre decorator. Since 1987 he has participated in many collective and personal exhibitions. In 1990, during the Perestroika, he exhibited his avant-garde collection "Red and Green". He achieved big success with his "Flowers series" exhibition in 1996. He lives and works in Russia.

When there is a mention of Igor Bushuev, many think of him as a painter of still lives with flowers in various compositions. But Bushuev's artistic life is long and varied, covering different styles, from Abstraction to Impressionism. Now he focuses on using the pure colors in a direct and exquisite manner. His palette is sparkling, his strokes are expressive and dynamic, and from each of his paintings one can feel the inner vibration of joy and love for life. He deeply feels every painting he is working on and he is not able to work in a closed room, with electric light and no beautiful flowers, colorful eastern carpets, porcelain figures or funny toys around him.

His technique is characterized by thin paint and smooth surface, allowing him to work with the texture of the cardboard, framing it into the overall architecture of the work. The background has the same value as the subject itself and is an integral part of the whole. Bushuev perfectly understands the relationship between color, shape and movement, a talent which rightfully earned him the name "Turbulent". And even his surname translates as "Turbulent", describing much of his work quite well.

Favorite material of the artist is cardboard. It meets the needs that he has more successfully then any other, for example canvas. Canvas has been the most frequently used material throughout centuries, but many great artists, such as Gaugain, Toulouse-Lautrec, Degas etc. were working on cardboard as well, understanding that each material has its unique qualities that cannot be substituted.

Since 1996, when he started painting from nature, Igor Bushuev has created series: "Flowers" (1996 - more than 150 paintings), "Prague" (cityscapes, from the artist's first visit to this city in 1997) and "Shop windows" (1999, Prague as well). In all his series we can find richness of colours, witticism of the sight, a puzzle of marks and strokes, rhythmically connected for the aim of ultimate composition.

Studios of Igor Bushuev
View database entry