John Daugherty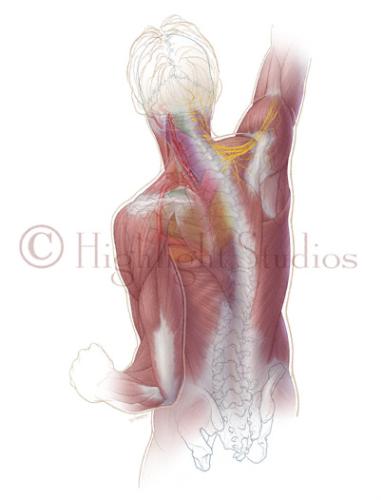 Back, Neck, and Shoulder Anatomy
© 2018 John Daugherty
Viewer -- change the resolution or background color.



Specializing in anatomical and diagnostic illustrations of the human body for the purpose of
educating patients and healthcare professionals, John Daugherty is sought after by clients who
appreciate aesthetic compositions that tell the medical story. Johnís unique style Ė an elegantly
flowing combination of lines and color, present the human body in a sensitive, non-threatening
manner.

A professional medical illustrator for more than twenty years, John owns Highlight Studios in
Waukegan, Illinois. He is certified by the Board of Certification of Medical Illustrators. A desire to
share his talent and passion for the medical arts has led to the position of Clinical Assistant
Professor at the University of Illinois in Chicago, where he teaches Anatomical Visualization,
Illustration Techniques and Surgical Illustration.
Studios of John Daugherty
View database entry