Kimberly Santini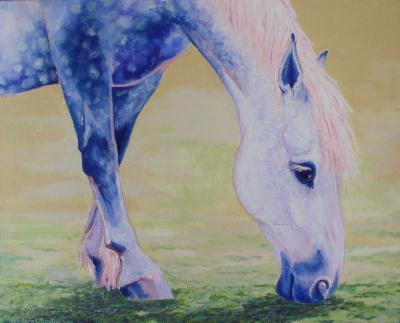 Zola, 2003, 32x30, acrylic on gallery stretched canvas, private collection.
© 2018 Kimberly Santini
Viewer -- change the resolution or background color.



For as long as she can remember, award winning Lake Orion artist Kimberly Kelly Santini has always been drawing and painting. As a child, when she wasnít begging her parents for a puppy or kitten or horse or some other 4 legged critter, she explored the world of animals though drawing. Through the years she developed an innate sense of line and animation, balanced by natural pattern and impressionistic, bright color. She cultivated an interest in color, pattern and energy, and the power of a well-drawn line.

Kimberly studied fine art and art history at Michigan State University, where she graduated with a BFA in Painting and a BA in Art History. She started college as a photo realist artist, then spent the following years studying abstract painting, installation art, art history and theory. A move to Los Angeles and post-graduate studies at Cal State further fueled her interest in color and surface, two elements which have always been predominant in her work.

With an impressionistsí eye for color, she exaggerates the natural color in the subject matter and plays off itís subtle undertones; the blue sheen of a black lab's coat, the violet shadows of a white cat slumbering in the sun, the green underbelly of a dark horse at pasture. Playing with colors in this fashion allows the artist to heighten the subject matter's presence, making them appear even more lifelike.

Kimberly layers acrylic glazes over a bold underpainting, often adding complimentary texture with additional layers of translucent, opaque, or gently tinted gel. She also prefers to work on unprimed canvas, allowing the color to saturate the surface. This technique allows her to more effectively capture the essence of each animalís particular gaze, building up color and reflected light. It also allows her to create an exciting, tactile surface, drawing the eye across the image, while the layered colors beckon the eye into/underneath it.

Kimberly has an innate understanding of an animalís character, and an uncanny ability to capture more than a mere likeness Ė she paints their personality. And she has an incredibly satisfied collection of clients to back her up.

Studios of Kimberly Santini
View database entry