Kle (Kelly) Thune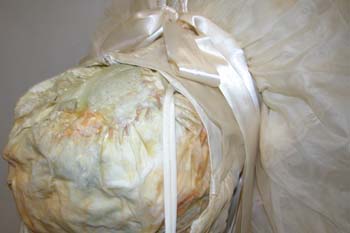 detail of REMNANTS, 2004.
© 2018 Kle (Kelly) Thune
Viewer -- change the resolution or background color.



Born and raised in Saint Paul, MN, Kle Thune attended graduate school to receive her MFA at the University of North Carolina at Greensboro where she switched her emphasis from painting to sculpture. Her artwork remains focused on body modification in women, and the effect of societal pressure to conform to unrealistic bodily proportions and beauty. Kle Thune draws her inspiration from her own insecurities with physical appearance and body type. Most feelings of inadequacy stem from Thune's adolescence as a ballet dancer.
Thune's sculptural thesis work deals with the allure of beauty and ballet, and the repulsion of it's effects on the body. This juxtaposition of attraction/repulsion creates an interesting paradox between what we as Americans find appealing visually, and the price of it's beauty.
Studios of Kle (Kelly) Thune
View database entry