Leon Dolice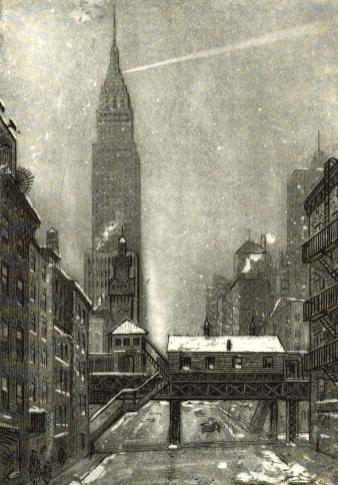 East 34th Street, 1951 - Copperplate Etching
© 2018 Leon Dolice
Viewer -- change the resolution or background color.



The romantic backdrop of Vienna at the turn of the past century had a life-long influence upon the young man who was to be spoken of as showing promise of becoming "one of the greatest etchers of all time." Dolice, even as a young boy, preferred the lure of painting to scholastic studies. His interest in art led him to abandon a secure future and to spend most of his late teens and early twenties traveling through the capital cities of Europe studying the works of the Masters.

As with many itinerant artists, he made his way in a variety of fashions – metalworker, chef, designer – somehow always managing to give vent to his creative instincts. Lured by the adventure of crossing the great Atlantic and by the freedom of the New World, he came to America in 1920. There he was greeted by the turbulence of New York in the Roaring Twenties. Finding a retreat in the European Bohemianism of Greenwich Village, he picked the streets of this landmark neighborhood as his first subjects. With the encouragement of new found friends and artists such as George Luks and Herb Roth, he soon ventured out and devoted all his time to chronicling the architecture, back streets, dock scenes and other nostalgia that was fast disappearing from the face of Manhattan, mainly in copperplate etchings. He won accolades for his work, and although he traveled the East Coast recording landmarks in other cities including Washington DC, Baltimore, Chicago and Philadelphia; he always returned to his new home, Manhattan.

A decline in popular favor for etchings led him to put aside his plates in the late 1930's and devote some ten years to pastels, linocuts and painting. His subject matter was almost exclusively New York City street scenes, but figurative works, country scenes and even experiments with Abstract Expressionism at the height of its newly found favor in the 1940s punctuated his career.

In 1953, after learning of the forthcoming demise of the Third Avenue El, in the shadow of which he had maintained his studio for over a decade, he once again took to his plates and press and created a final copperplate series of Third Avenue and other New York City landmarks that were then threatened with extinction. These and his earlier etchings are the first pages in this catalog. He also created a series of 24 linoleum cuts of his favorite street scenes, and hundreds of paintings and pastels. His work brings to light aspects of nostalgic New York that survives today only in small part, whether in architecture or in spirit.

Studios of Leon Dolice
View database entry