Robert Pepper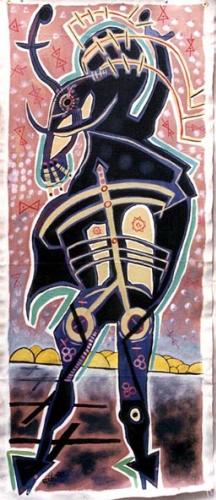 Savio, Who Saved The World
© 2018 Robert Pepper
Viewer -- change the resolution or background color.



My name is Robert L. Pepper. I am based in Brooklyn, New York. I am influenced by such artists as Zoviet France, Rapoon, Joan Miro, Antonin Artaud, Arthur Machen, and Charles Maturin; just to name a few. I received a Bachelor of Fine Arts from Brooklyn College, but I think my real influences came from everyday life. Lectures and classrooms can only get you so far. The real creativity comes fom within yourself and the situations around you.

"When the viewer looks at my work, they are presented with many intertwining, interacting forms. These forms make up scenes and imaginary beings, which are part of a world that I have created. Many people have their television world, I have decided through painting to create my own world. All these scenes originate from deep within my mind. I am inspired by "tribal designs" from all over our globe, ancient texts, and occult symbolism. I try to create something mysterious, provocative, and intriguing out of the simplicity of these forms, as well as displaying a story for the viewer to decipher for themselves."

I am always looking to be involved in interesting projects. Please contact me if you have anything in mind.
Studios of Robert Pepper
View database entry