Robin Hernandez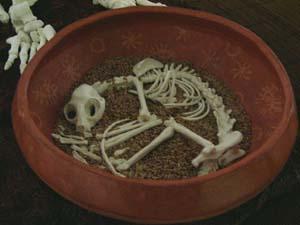 Ban Chiang Project, Cat Bone Funerary
© 2018 Robin Hernandez
Viewer -- change the resolution or background color.



Born in Casablanca, Morocco, and raised in the United States. Founder of Yellow House Associates artists' cooperative in 2001. Bachelor of Individualized Study in Sculptural Ceramics, 2004, from George Mason University, Fairfax, VA. Now living and working in northern New Mexico.

Ceramist, sculptor, and painter. Mediums include: ceramics, metal, wood, mixed-media, rescued & found objects, oil, acrylic, and watercolor.

Studied under: ceramist Theresa Knight-McFadden, sculptor Peter Winant, painter Chawky Frenn, painter Mary Del Popolo, ceramist Jim Kempes, sculptor Duncan Tebow, mixed media artist Judy Miller-Pecora, book artist Leslie Riley, and fiber artist Donna Sakamoto Crispin.

Artist's statement:

"In our American society, we are judged by what we own. We often feel defined by our possessions. We attribute human qualities to everyday objects, and sometimes treasure these things more than the human beings around us. Our country is so affluent that we throw things away before they have outlived their usefulness. It seems that we are on a constant quest to have the newest and the latest, and to toss out those things that have lost their original shine and appeal.

"I make art using a variety of media. Of particular interest to me is creating art from found objects, and returning them to their former glory as prized property. In blending the human figure with these "rescued" objects--I create sculpture that is highly anthropomorphic, thus illustrating the connections we have to our personal belongings.

"I am also influenced by language. For me, a simple phrase can produce a vivid mental picture; a picture that sticks with me until I, quite literally, create it out of my mind. The result is a visual pun; the tangible product of a word or group of words. This points to another interesting aspect of our society; the use of words and phrases that have double meanings. For instance, "the mouth of a jar," or being "burned out."

"I am an interdisciplinary artist, not feeling constrained to work in any one medium. Often, the subject of my art will dictate the creative process. Much of my sculpture is fabricated from "rescued" objects, for I see beauty all around me. These unexpected treasures inspire me to give them new, or returned, status within our society.

"In an attempt to connect with the earth, and with the artist-potters of pre-history, I have recently begun working in clay. The use of clay has been particularly key for me to manifest my thoughts about the "mouth of a jar," and has resulted in a series of pots--each with a different facial expression. In finishing these new works, I have chosen to forego the use of commercial glazes; celebrating, instead, on the innate beauty of the clay, which reveals itself through a progression of hand-waxed finishes.


Studios of Robin Hernandez
View database entry