Sappy Sapkin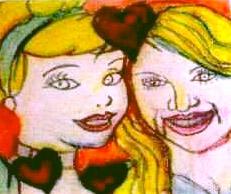 Cinderella and Britney, 2005
© 2018 Sappy Sapkin
Viewer -- change the resolution or background color.



Sappy's work seduces the viewer by using familiar, sexy, and loaded images from popular culture to comment on corporate control over mediated female fantasy.

Growing up in London, Sappy was influenced by the YBA's Tracey Emin & Sarah Lucas, the music of PJ Harvey, and street grafitti. Her work uses acrylic, pastel, puffballs, glitter, Krylon spray paint, and Xerox tranfer.
View database entry