ann tracy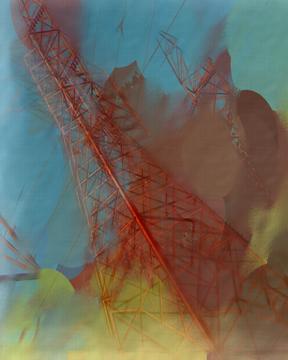 Then, I Began Dreaming of Electrical Transformers
© 2018 ann tracy
Viewer -- change the resolution or background color.



Ann Tracy has only been exhibiting work since 1993, but while she's pursued other artistic endeavors – writing, acting, directing and making video – she's been making art. It was the illness and death of a sister artist and friend in 1994 that spurred her to begin to get her work out into the public eye, in the form of poster design and graphic arts. And it was the encouragement of artists like Esteban Villa (member of the RCAF-Royal Chicano Air Force) and Art Luna that pushed her even further into making more art and getting it out there.

Ann's fine art has been exhibited from Japan to Maui to New York City. In 2003 her work, "Stop" was included in the catalog of the "Violence Against Women", Group 78 Amnesty International, Tokyo, Japan.

Her work is also included in the following web projects: "Me & My Shadow" http://www.selfshadows.com/ open project created by Javier A. Bedrina, Madrid, Spain; "The Bile Rose in Her Throat" - The Art Project: Artists Respond to Terrorism http://www.theartproject.net/ and "Merce Would be Proud" - Digital Pocket Gallery http://www.ikatun.com/digitalpocketgallery/june_pocket _list.html#Ann_Tracy

Ann spent 10 years as a radio and print journalist in Denver, Milwaukee, San Jose and Sacramento. She was the first female voice to grace the airwaves of KTLK, Denver in 1977, in her first job as a radio news announcer.

She is also a director, actor, writer and video artist. As the founding artistic director of Beyond the Proscenium Productions in 1994, she has directed twelve original works and eight regional premieres for the company. Ann is the author of nine scripts, seven of which have been produced in California.

As an actor, Ann has appeared on stages in Northern California and Milwaukee, WI and in the movie George B. which premiered at the Sundance Film Festival, as well as the independent features The Bullpen and Kith & Kin which are both in post-production.

Ann is the artistic director emeritus of Beyond the Proscenium Productions, a nonprofit theatre company and an artist-partner of Asylum Gallery, both in Sacramento, CA.

Artist's Statement:
My work explores identity issues, chance as an element in art and the Dada concept of collage on a digital level based on my photography, digital painting and "found imagery". I consider digital collage as the alchemy of our day. We take base metal in the form of images with one meaning, and then by adding or subtracting data we create something with new meanings, sometimes readily apparent other times not. In some of my work I weave in portions of images of myself which further implicate my view of the world. I have a tendency to gravitate toward strong colors which fuel the emotions behind the worlds I create in art.

Currently I am working on a series entitled "Power: Lines & Shapes" which will form the basis for a one-woman show this coming January. The work consists of large scale lambda prints of photographs of power lines and transformers blended digitally to focus on how ordinary elements can become something else and also a study in shape, color and mass. I've always been fascinated by the machinery of electricity upon which I depend so much for my art.


Studios of ann tracy
View database entry