Tracey Emin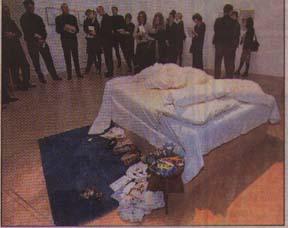 My Bed
© 2018 Tracey Emin
photo by Tony Harris, Times Mirror

Viewer -- change the resolution or background color.



Tracey Emin's "My Bed" is a finalist for Britain's coveted Turner Prize for contemporary art. It is a double mattress heaped with stained and disheveled sheets, surrounded by the debris of indulgence -- discarded stockings, empty vodka bottles, cigarette butts, etc.

What is most interesting about the Tony Harris picture of it that appeared in the L.A. Times is not the work itself, but the 18 art critics surrounding it all dressed completely in black.
Studios of Tracey Emin
View database entry