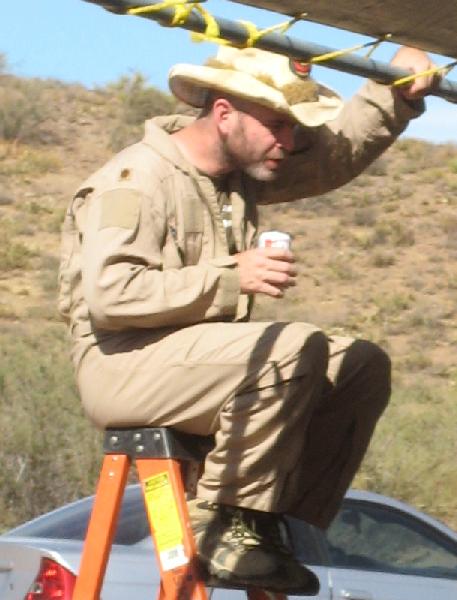 This is the guy who gives flaming enemas.
Here is the story:

A nymph lifted her tutu.
Lucky Bastard pulled the trigger on his new propane tank.
The people at the fire cheered as a flame shot around a long looping plastic tube.

"Oouch," she screamed to general laughs.

"I want one of those . . . but only after five drinks," said Giggles, who just then got a text.
His friend was then there, really here, clomping over the top of the little hill.

"Would you like a flaming enema . . . it's free," said Lucky Bastard.

Giggles jumped up, put his arm around his friend, and declared "he's in."

He was.
He bared his ass, grabbed his junk and bent over.

"Kissisiscick," went the propane trigger and round and round went the flame, capturing the full attention of the group.
It lit up the air about the tube.
It was a bit chilly; the whole thing happened at the main fire pit.

"Hot Damn," he yelped as the fire hit its mark.

"Look at the big smile," said Lucky Bastard.